Meet the Team
​Jay White
​Director & Educator
About Me:
Hi, my name is Jay, and I am lucky enough to have been a part of the Woodbine family for over 10 years. I first came to Woodbine as a parent, and loved watching my own 3 children progress through their early learning years at such a wonderful service. During this time I was an active member of our committee, taking on roles from general member to secretary.
In 2017 I was very excited to officially join the Woodbine team. I have taken on roles as an educator in our 4 year old groups, and an Activity Group Leader running our 3 year old pre-kinder programs, and I am now extremely honoured to be leading our team as the Director of Woodbine.
I can honestly say I have my dream job, and love working in such an amazing community.

My Pedagogy:
I believe that learning happens throughout every moment of every day and it is our responsibility as educators to build a trusting relationships and nourishing environments that not only foster but challenge and extend these learning opportunities. I also strongly believe in the importance of social learning and the wealth of knowledge and experience each child, educator and family bring to our service.
Judith Kierce
​Educational Leader & Early Childhood Teacher
About Me:
Hi, I'm Judith. I hold a Bachelor of Early Childhood Studies from Melbourne University and I started work at Woodbine in 2003. Previous to this I worked at a kindergarten in Ringwood then Aspendale. In my time at Woodbine I held the roles of Director and Teacher 2003-2016. After maternity leave in 2018 I returned to the roles of Teacher and Educational Leader.
 In 2021/22 I was thrilled to have my son attend Woodbine.
I have loved being part of the Woodbine community over so many years and helping children flourish in a very special year before transitioning to primary school. I feel privileged to have met so many amazing families over the years and seeing Woodbine change and develop.

My Pedagogy:
I strive for strong relationships with our community, families and children. I believe that when children are immersed in a happy, safe and connected environment where they are heard and valued their learning will flourish. I am passionate about collaborating with our team, reflecting with other professionals and engaging in professional learning to enhance my knowledge and skills. I actively engage in play and ignite the vital opportunities it offers to grow, learn and develop.
Michelle Maling
Educator
​About Me:
Hi, my name is Michelle, I started my journey here at Woodbine Rd Preschool as a parent back in 2018. I am lucky enough to have worked in both the 3yo pre-kinder room and the 4yo kinder room, I absolutely love working in both age as they both bring something different.
I myself have 3 children. We are a very sporty family and enjoy getting out the house for either sports or mini getaways.
I love working with children and watching them grow up over the year also while getting your child ready for school. I enjoy group time and incorporating music and dance into everyday fun. Working at Woodbine is amazing as the Community, Children, Families and Staff make this an enjoyable place to work.

My Pedagogy:
I believe that all children learn in different ways and that every child is unique and have their own story.
To me communication is the utter most importance with both child and families.
I believe that children learn best through play and as educators it's our responsibility to encourage and extend on the child's play.
Teaching children and being a positive role model is what I strive for to be the best educator for your child.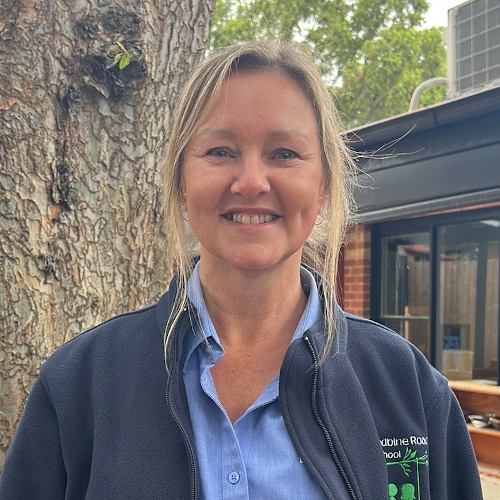 ​Angie Bicheno
​Administration Officer
​About Me:
My name is Angie and my journey at Woodbine began waaaaay back in 2003 when my daughter Carly attended here in Judith's group and then my son Kaine attended in 2007, also in Judith's group, and that same year I started working in the office doing the accounts.
I love working at Woodbine, it's a great team environment, supportive and fun.
Every day here is different, always busy and often crazy. 
I enjoy meeting all the families and seeing all the children and how much they grow and develop over the year. 
If you need anything and I'm in the office, just knock on the window and I will help you out.
​Janelle Kenny
Early Childhood Teacher
​About Me:
Hi, I'm Janelle. I have a Masters of Teaching in Early Childhood Education from Monash University. After being lucky enough to complete two of my placements at Woodbine, I started as an Activity Group Leader in 2022 with one of the three year old groups. I am so excited to be teaching one of our three year old and four year old groups this year. Woodbine is a fantastic place to work alongside such a fun, supportive and dedicated team.
I previously worked as a Migration Lawyer for a number of years. I enjoyed working with and learning from people from all different cultures. I love that Woodbine is such a beautiful multicultural community. I feel honoured to be able to work alongside families in such an important period of your child's life.

My Pedagogy:
I engage with children during their play and all aspects of the kindergarten program to support and extend their physical, emotional, social, cognitive and language development. I value the ideas and opinions of every child and the unique experiences, cultures, strengths and interests that they bring to kindergarten. I strive to create strong relationships with the children and their families to foster their sense of belonging to the service.
Thea Georgiopoulos
Educator
​About Me:
Coming soon…

My Pedagogy:
I believe that each child Is an individual and as an educator, I will always value and help develop each child's strengths, interests, skills and knowledge to extend their learning.
I strive to model respect, patience and care for all children and adults I meet.
I believe building strong relationships not only with the children in my care but also their families to form a trusting and respectful bond.
Elly Balog
Educator
​About Me:
Hi, my name is Elly, I have just recently began working at Woodbine Road Preschool. My journey at Woodbine Road started all the way back in 1995 when I attended 4-year-old kinder and returned when my son started 3-year-old kinder in 2021.
I am a mum of 3 beautiful children in my spare time I enjoy volunteering at their school and on weekends going on adventures making lifelong memories with them.
I love working at Woodbine and feel privileged to be able to work alongside the wonderful staff and building strong connections with all the children and their families.

My Pedagogy:
I believe that learning can happen anywhere, anytime, so being able to utilise play based learning and intentional teaching to maximise children's learning opportunities. All children should be empowered to learn and feel confident about their curiosity and engagement with the world around them.
I strive to build strong connections with all the children to help them feel safe, secure, and supported in their environment.
Mary Krotwaar
Educator
​About Me:
Coming soon…

My Pedagogy:
Coming soon…